Fontsy
With the release of Bitsy 5 came a brand-new font system. The new system is far more customizable than the old one: among other features, it includes a spec for a .bitsyfont format which can be used to make custom fonts.
Since the format is plaintext, it's relatively easy to make custom fonts by typing them out in a text editor, but from a creative perspective, it's a bit hard to draw characters that way. To help with this, Fontsy provides a way to convert back-and-forth between .bitsyfont and .bitsyfont.png files, which can be used to draw fonts in a more traditional image editor.
Notes:
The default bitsy font is imported by default
Fontsy doesn't save anything; make sure to export your work!
Font data is 1-bit (i.e. black and white)
The images used for the old custom font hack are not compatible with Fontsy
If you're using the built-in editor, keep the export section closed to improve performance
Hover over characters in built-in editor to see code points
Recommended workflow:
Pick an existing font to use as a base (e.g. the default bitsy font, or one of the others included in the bitsy editor)
Import .bitsyfont file
If needed, make minor edits using the built-in editor (e.g. changing size, name, or adding characters)
Export .bitsyfont.png image
Open image in external editor and customize font (note: make sure not to edit the borders, and to export in a mode which doesn't affect colours)
Import edited .bitsyfont.png image
Export .bitsyfont file
Comments
Log in with itch.io to leave a comment.
the importing a file picture does not work :(
Are you using Firefox? I tested just now in both Chrome and Firefox: Chrome is working fine, but Firefox has an issue if you don't strip the colour profile before uploading.

no, i am on a chromebook (my other computer is updating) does the PICO8 font work? that might be my problem!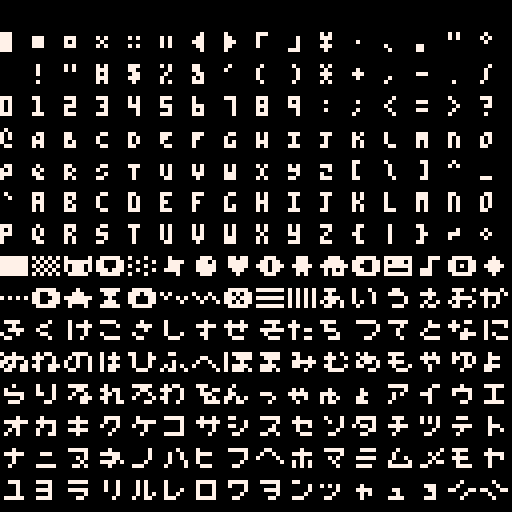 oh, you have to use a very specific image layout for this to work: if you want to use the PICO-8 font, you'll need to first make a template in Fontsy with the intended width/height/character set, then copy the characters over from your PICO-8 image and re-import it (there's important data encoded into the grid borders of the layout Fontsy uses that tells it how to parse the characters)

I mapped out some of the PICO-8 monospaced font, but only the 3x5 characters from the exclamation point onward. I'm sure you could expand on it tho!